Elevate Your Kitchen in Laguna Niguel: Your Guide to Kitchen Remodeling
Imagine your home in beautiful Laguna Niguel, with a kitchen that not only looks fantastic but also functions perfectly. Your kitchen is where magic happens, from family gatherings to culinary creations. If you're thinking about giving your kitchen a fresh look or a complete transformation, this blog is here to guide you through the process in simple terms.
Step 1: Choosing the Right Kitchen Flooring in Laguna Niguel
Let's start with the basics – your kitchen floor. When it comes to Kitchen Flooring in Laguna Niguel, you've got choices aplenty. Hardwood floors bring warmth and charm, while tiles are easy to clean and maintain. Your floor choice sets the tone for your kitchen's overall look and feel. Think about your family's needs and your personal style when making this decision.
Step 2: Crafting a Beautiful Kitchen Design in Laguna Niguel
Now, let's talk design. Your kitchen's design is where aesthetics meet functionality. Whether you want a minor Kitchen Design update or a complete Kitchen Redesign in Laguna Niguel, it's about creating a space that you love. Our experienced team can help optimize your kitchen layout, ensuring that it not only looks amazing but also works seamlessly for your daily life.
Step 3: The Power of Kitchen Cabinets and Countertops
Kitchen Cabinets and Countertops are like the heart and soul of your kitchen. They define its character and add both beauty and utility. You can opt for classic wooden cabinets that exude charm or luxurious marble countertops. We'll help you choose the perfect combination to match your style and budget.
Step 4: Adding the Finishing Touch with Backsplash
Now, let's add some flair with a stunning backsplash. A backsplash is not just a pretty addition; it also protects your walls. In Laguna Niguel, our experts can guide you in selecting the right material, pattern, and color for your backsplash. It's the final piece of the puzzle that ties everything together beautifully.
Why FKB Design Is Your Best Choice
Decades of Trust: We've been making kitchens beautiful for over 25 years. Our long-standing presence speaks to our dedication and the trust homeowners place in us.
Efficiency Matters: We know remodeling can be disruptive. We work diligently to complete your kitchen project swiftly, minimizing disruption to your daily routine.
Material Mastery: Our team is skilled with various materials, whether it's wood, marble, granite, or others. We'll help you bring your vision to life.
The staff here have always been professional. They have a great deal of knowledge concerning kitchen and bath improvement. The showroom displays are helpful in providing design ideas. They are a pleasure to work with!

Gary McNeill
About Flooring, Kitchen & Bath Design:
Flooring, Kitchen & Bath Design is a private, locally owned and operated business headquartered in Ladera Ranch, serving homeowners throughout southern Orange County. The company has had a successful presence in Southern California since 1989 and is now an industry leader through high-quality product offerings and focus on customer service in both its residential and commercial divisions. Our mission is to give you a unique space that is specifically made to fit with your budget and lifestyle.
After your initial visit to our showroom in Ladera Ranch and an initial selection of materials, our qualified professionals will gladly come out to your property or business for a complimentary assessment for all of your kitchen and bath remodeling and flooring needs like Hardwood, Tile, Stone, Laminate, Carpet, Countertops, Custom Bathrooms and Showers.
In summary, FKB Design is about more than just remodeling kitchens. It's about creating spaces that reflect your lifestyle and enhance the beauty of your Laguna Niguel home. If you're ready to transform your kitchen into something truly special, contact us today for a consultation. Let's work together to make your dream kitchen a reality.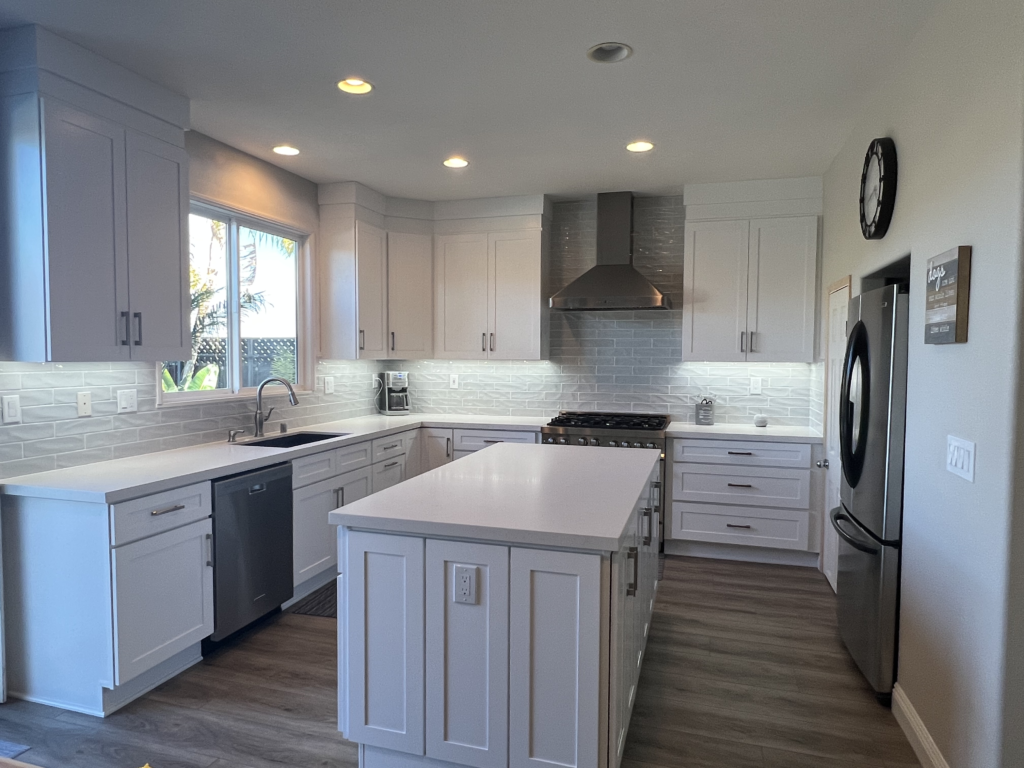 We look forward to partnering with you on your next kitchen remodel, bathroom remodel, flooring installation, or kitchen cabinet installation project in Laguna Niguel.