How do  you define your design style? Oftentimes clients will use certain terms to describe their style to a designer without having a full understanding of what these phrases mean which can extend the design process. While there are many different styles out there, having a basic understanding of the three main styles of design is a good starting point.
Traditional Home Design
The traditional design is based on classic European styles from the 17th and 18th centuries. This style typically incorporates ornate detailing on wood work, rich, heavy fabrics like leather, velvet, and jacquard, and deep saturated colors that create an opulent feel. Traditional furnishings oftentimes feel very substantial and carry a lot of visual weight.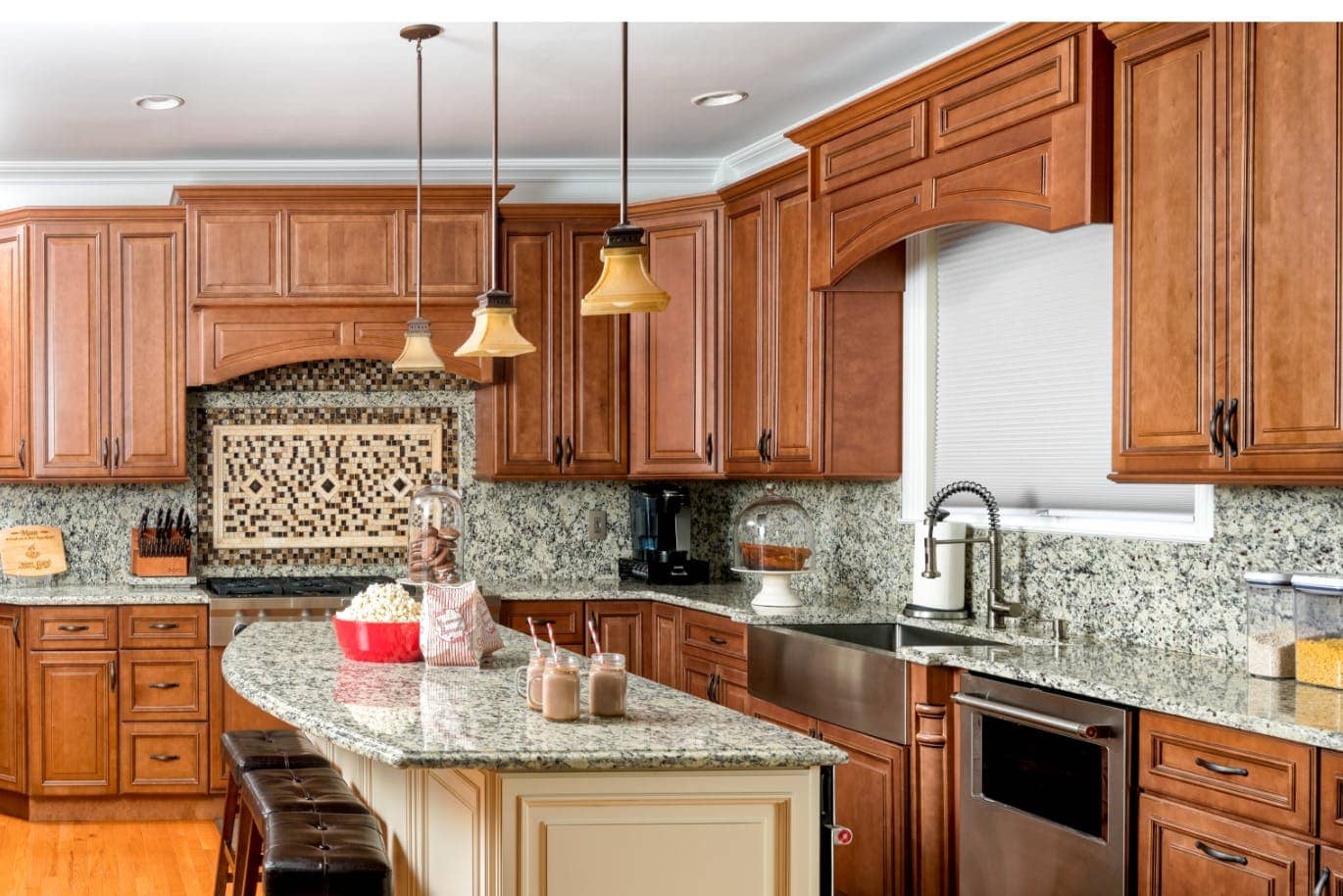 How to incorporate into your renovation: If redesigning your kitchen, consider choosing cabinetry in rich wood types like cherry or mahogany. If you love the traditional feel but don't want your kitchen to feel too dark, adding a glaze to white or cream cabinets can help achieve more variation and give the cabinets a more antiqued look. The door style of your cabinets can also make a big impact – consider doors with intricate moldings and detailing.
Another great way to create a traditional feel is by using different wall coverings. A damask patterned wallpaper can elevate even the smallest powder room, while wainscotting can add drama to a dining room. Don't be afraid to explore all the options available out there.
Finally, don't ignore the details. Traditional style is all about intricacy. Consider adding little touches that go a long way to help you achieve the look; detailed crown moldings, gilded hardware, glass cabinet doors to display fine china. You can never have too much as far as this style is concerned.
Transitional Home Design
As the name suggests, transitional style is a blend of traditional and contemporary design elements. Oftentimes considered the most timeless design choice, it can feel a bit more airy than traditional design while providing a bit more coziness than contemporary design.
How to incorporate into your renovation : Achieving a transitional style is fairly simple since it's all about incorporation of different design styles. If you're renovating a bath, consider pairing a claw-foot tub with a more contemporary tile. If you have sleek cabinetry picked out for your kitchen, consider adding more ornate hardware to balance the clean lines.
Another good rule of thumb is to keep the overall color palette neutral to make the combination of design styles more seamless. White is a perennial favorite for good reason, it looks good with everything. Other classic color choices include beige, gray, and taupe. Want a bit more color? Consider adding blue in shades of navy for richness or cobalt for fun.
Contemporary Home Design
This style is often mixed up with "Modern". Modern style actually refers to a style from the early to mid 20th century, while contemporary literally means "of the moment". Now that's not to say that this style can't borrow elements from other types of design, but it does so in a current way.
Another thing to keep in mind when shooting for a contemporary feel is that less is more. By keeping the overall lines of your kitchen or bath simple, you're letting the design elements speak for themselves instead of interrupting the aesthetic with details.
People are often concerned that by incorporating contemporary design in their homes, the space may end up feeling cold or uninviting, but this certainly doesn't have to be the case. Choose warm wood tones for vanities and cabinets or adding a bit of greenery in simple potting to keep the space from feeling too stark.
Still unsure which style is right for you? Give us a call and one of our designers can help you achieve the perfect style, no matter what your tastes!